LBG develops web games, virtual worlds, applications for Facebook, corporate training and educational institutions.
We do it all - brand games, virtual worlds, interactive websites, educational products, corporate training and facebook applications. We can assist you in building your brand by developing products designed to feature your message, not just your logo. Every project Left Brain Games inc. develops is created in our offices. We don't outsource. Please explore our site, and contact us with any questions.
We specialize in the following areas:




Shatter Sphere: (Unity3D)

Very simple and strangely addictive game. You are just matching 2 or more nearby Spheres by clicking on them. The more you match at one time, the more points you get. More and more bouncing Spheres keep coming. Save up the smaller powerups to remove all of the Spheres of a color making way for bigger clusters. Faster and faster until the screen fills up.

---
University of You

In a collaboration with Quayus Entertainment LLC, Left Brain Games has just released a new social network game on Facebook. The game takes the tried and true gameplay of the most popular social networking games and extends that into a more social experience.

Read a review from Inside Social Games
---
Left Brain Games on TV!

ALL THINGS CONNECTICUT, CPTV's weekly magazine-style series, has a new season of shows featuring the interesting people and places of the state. The latest episode, "Technology – Changing the Way We Live," takes a look at some intriguing new technologies, including a golf simulator that does more than improve your golf game and a series of educational children's games from Left Brain Games.


Look for the episode to premiere on
Thursday, April 8 at 8 p.m. on Connecticut Public Television (CPTV),
with an encore broadcast on Saturday, April 10 at 5:30 p.m.
---



New Games for EA's Charm Girls brand!

Left Brain Games just delivered two games to Electronic Arts in support of their Charm Girls Club brand. You can find them on the Charm Girls Club website: Design Time and Charming Tiles!
Design Time tests your memory skills as you use patterns and colors to copy one super-stylish charm to match another. In Charming Tiles, locate matching tiles that are in very specific locations within intricate arrangements. Congratulations, Electronic Arts and Left Brain Games!
September 15th, 2009
Left Brain Games Launches Beta site for Storytool.com

StoryTool™ is an Adobe Flash based authoring and display platform for eTraining, Educational and Adventure Game software developed by Left Brain Games. Storytool provides the tools for authors to develop content for branching stories, quizzes, and a wide variety of interactions.
Find out more here :
---



Our fearless leader and president, Andrew Keplinger, will be joining the "Educating Children Through Gaming" panel of the "Connecticut Film Festival (CTFF)" in Danbury, Connecticut = Left Brain Games' home state. The panel will discuss techniques that facilitate learning both in and outside of the classroom and any problems and associated weaknesses.
"Teachers have been using games in many forms as educational tools as a compliment to rote memorization, like basic imaginary puzzles that can be solved using math, logic or basic knowledge; 'A Train leaves Chicago at 50 mph...,' " Said Andrew Keplinger. "Games not only reinforce memory retention but increase the speed of information recall and flexibility in problem solving."
CT Interactive takes place form 11am-7:10pm on June 4 and 5 and 11 am-7:45pm on June 6. Events will be at the Danbury Arena; 1 Independence Way and at Billy Baloney's and the Polish American Club on 6 and 8 Ives Street. Tickets are $7 for all events (or a special Interactive Day Pass for $30) and can be purchased through the CTFF Box Office at 186 Main Street, the Danbury Arena or www.CTFilmFest.com.

---

Race for a Cure Garners High Praise for client Ignite Health and for Left Brain Games at the San Diego Science Festival

Left Brain Games recently produced Race for a Cure, an implementation of our Digital Board Game System™. The client is Ignite Health, a premier medical marketing agency. According to Ignite's executive producer, Viven Lee: "I came down to check out our game at the San Diego Science Festival! It's been such a success that they took down their looping video from their other plasma and put a second (mouse) version of the game up instead! The best part was when a boy around 8 years old came up to me after he played and asked, 'Did you make that game?' All smiling, he said 'Thank you for making a fun game!' ... Thanks so much for all your hard work! The game was a huge hit!"

High praise indeed. Congratulations to Ignite Health and Left Brain Games!
---

Left Brain Game's "Pirate Bay Theme Park" Game Wins ADDY® Gold Award

Developed for Red Frog and the Tampa Bay Regional Planning Council, "Pirate Bay" teaches business owners across the Tampa Bay area about the importance of disaster preparedness. This exciting game is built on Left Brain Game's Digital Board Game system. As described in our catalog, "The Left Brain Games™ Digital Board Game System™ brings the best of the new and old together, and your company can be the winner. Congratulations to Red Frog and Left Brain Games!
---

Left Brain Game, Inc. attends Engage Conference in New York CIty.

Formerly known as the Virtual Worlds Conference, this conference is the center for virtual world and social networking.
---

On behalf of all of our friends, we're sending two children to Paul Newman's Hole in the Wall Gang Camp. This superb organization provides sick children with loads of fun and laughs, not to mention a badly-needed break from the drudgery of treatment schedules and the stress of very worried adults.

Find out more about The Hole in the Wall Gang Camp at http://www.holeinthewallgang.org. And thank you for joining us in brightening the lives of sick kids during this season of joy and giving!
---

Ho-ho- ho! Here's your holiday present from LBG!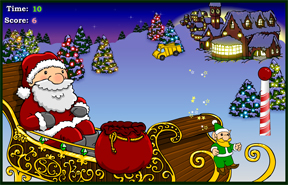 ---

Zwinky Cuties
Zwinky and LBG teamed up to develop 10 fun games for the Zwinky Cuties website.
Explore www.zwinkycuties.com to play Zoom and Groom, Going Nutty, Balloon Burst, Flying Fashion, Jewel Jam, Pounce and Bounce, Paint-a-Pet, Fish Bowl Frenzy , Fashion Feud and Cutie Clean-Up!

November 1st, 2008
Sushi Pack: Break the Ice
Side scrolling sushi fun!
Visit agkidzone.com to play Sushi Pack: Break the Ice. Race through the headquarters of your Sushi Pack friends. Use each of their super powers to free Wasabi from the Legion of Low Tide. LBG had a blast working on this with American Greetings. Give it a try and you'll see why!
---

WOOF! Left Brain Games has gone Chihuahua!
Visit the Beverly Hills Chihuahua website and try our Follow That Smell and Chihuahua Beat Box Power game.
---

Collect Belly Badges as you make your way through garden mazes with the Care Bears! Visit www.agkidzone.com to play the Summer Daze Maze game, the latest LBG game to be added to AG's site.
---

Stop by www.agkidzone.com and try out our newest games to hit their line-up. For a berry fun time play the Fruit-Filled Fun game and help Strawberry Shortcake in her kitchen. If you want action join the Sushi Pack characters and try the Talkin' Trash game. More awesome LBG games will be released on their site in the upcoming weeks!
---

Two great things that go great together: DirecTV and LBG! We're excited to be working on another set of fun games with DirecTV.
---

Virtual Worlds Conference 2008
We returned from this show enlightened and ready for action. The virtual world is booming. We will be incorporating new game ideas into our process and bringing these ideas to our clients, soon. As I suspected, Social sites and Virtual Worlds are getting closer and closer together. We plan on being there with solutions.
---

Company Update
An updated HTML version of our game catalog is now available. The catalog groups games by cost and development time, includes info on developing virtual worlds and avatar systems. Contact us to request the catalog. In exchange please let us know who you are and what services you're looking for. Thanks!


Company Update
We're signed up to attend the Virtual World Conference in NYC.
The conference is April 3rd and 4th at the Javitt's Center. Attending will be Andrew Keplinger, President of LBG as well as Eric Tully, our systems architect, and Jacqueline Decker, VP of production. They'll be there with catalogs of LBG games and ready to answer any questions.
If you're attending and looking for a developer please drop us an email. We'd love to arrange a time to talk.
Contact us if you plan on attending the show
---

Project Update

We've just finished up 6 games for DirecTV. Talk about sticky – we're sorry to see these games end because now we can't test them anymore!
---

Project Update

Greetings – as in American Greetings!
Left Brain Games inc. is proud to announce that we are creating five new games for their website, agkidzone.com!
We're excited to help the Sushi Pack stay out of the heat, find belly badges with the Care Bears and gather berries with Strawberry Shortcake.
Check back here for a link when the games go live!
---

Project Update
Brave enough to take a dip?!
Left Brain Games, inc. just finished a game for the Sci Fi Channel based on the movie Lake Placid.
The fun twist on this game is you're the hungry gator.
Give it a try!

---

Time to make your New Year's resolution
Check it out
---

Canton, CT – Left Brain Games, Inc. is proud to announce the release of the New Hive City Flash game, located on the Bee Movie website. Rather than tell you about it ourselves, we thought we would let the-numbers.com speak for us:

...There are also several games including New Hive City, which is one of the best games I've played on a website so far. It a small scale 4X game, (eXplore, eXploit, eXpand, and eXterminate), where you have to build up your bee hive, hire workers & pollen jocks, find flowers, and eventually get a queen bee and colonize another hive. Very fun and the winner of the sticky Weekly Website Award.

It's a fun game that requires registration on the Bee Movie website.
---
Jigsaw Puzzle Widget
Left Brain Games, Inc. is proud to offer the Jigsaw Puzzle WIDGET!
You can add this game to your personal space by clicking the link below.